Ghost-Eye 200M Wireless HDMI and SDI Video Transmission Kit

Overview
After years of research and development, we at Cinegears represent….
A BRAND NEW 2021 GHOST-EYE 200M MODEL!

Physical Specs 
| | Transmitter | Reciever |
| --- | --- | --- |
| Weight | 250g | 342g |
| Color | Black and Red Chrome | Black and Red Chrome |
| Size | 11.5cm X 7cm X 2cm | 14cm X 9cm X 2cm |
Cinegears Ghost-Eye 200M wireless video transmission systems are already on thousands of film sets around the globe. With all the cutting edge features packed into the compact transmitters and receivers, the choice is clear: keep watch over your shot with the Ghost-Eye 200M. The Ghost-Eye 200M-series provides the best solution for video and audio transmission for film and television professionals, on set and in post-production.
| | The 200M default antennas have a range of 200 meters. Increase the range with Cinegears Extra Large Panel Antenna (sold separately), to increase the range up to an astonishing 800 meters. |
| --- | --- |
Notable Features
Compact and Easy to Use Design
| | The new 200M model has a sleek and compact design. Weighing in at 250 grams,  it is light and easy to handle. The 200M also has a trapezoid clip, which is compatible with Cinegears V- Mount Brackets and Ghost-Eye MiniV Cheese Plate With V-lock Male and Female Socket (each sold separately). |
| --- | --- |
Easy to Read LED Screen
| The new Transmitter and Receiver feature a small LED screen which allows the user can see which shows the channel which is in use. The two button channel is simple to use. | |
| --- | --- |
Easy to Attach Battery Slot
| | The device is compatible with almost any lithium ion battery, due to its two extended pegs located on the back. Just connecting the battery to these pegs will power the device. |
| --- | --- |
Large and Easy to Use Power Switch
| The large power switch, makes it easy to power on and off | |
| --- | --- |
No compromise on quality!
Our video and audio signals are sent at industry-leading speeds from A to B (or from A to B, C, D, and E with built-in point-to-multipoint topology) with zero compression. Your signal will arrive in  10-bit, 4:2:2, 1080p, 60fps; don't miss a single frame! Broadcast from virtually any SDI or HDMI output, and have your signal received by an unlimited number of Ghost-Eye receivers of any model! Our high sensitivity antennas and intuitive signals mean the signal is not likely to be dropped; however if the signal does drop, the device will automatically. With a 1-year warranty* and firmware upgrade guarantee, your Ghost-Eye units will always function at peak performance.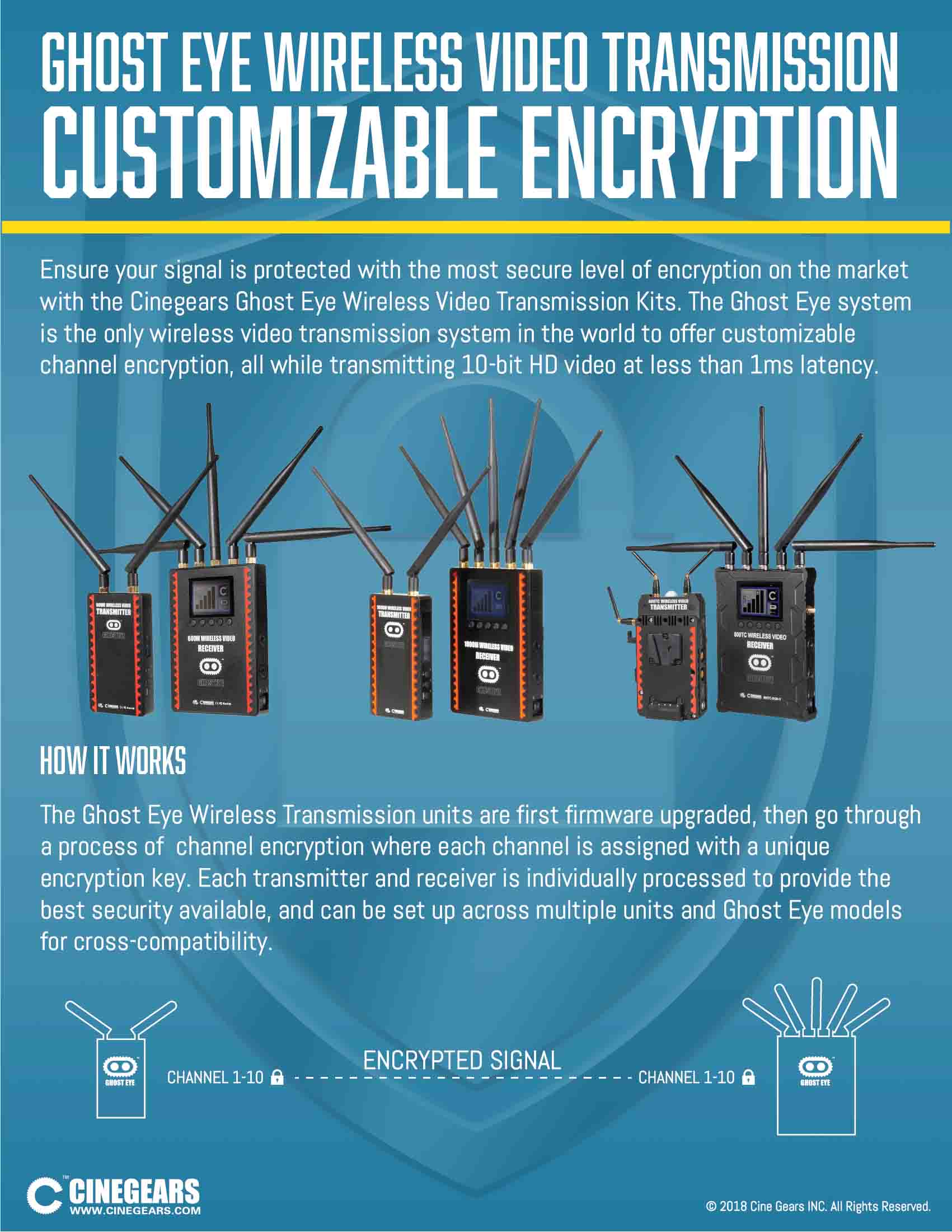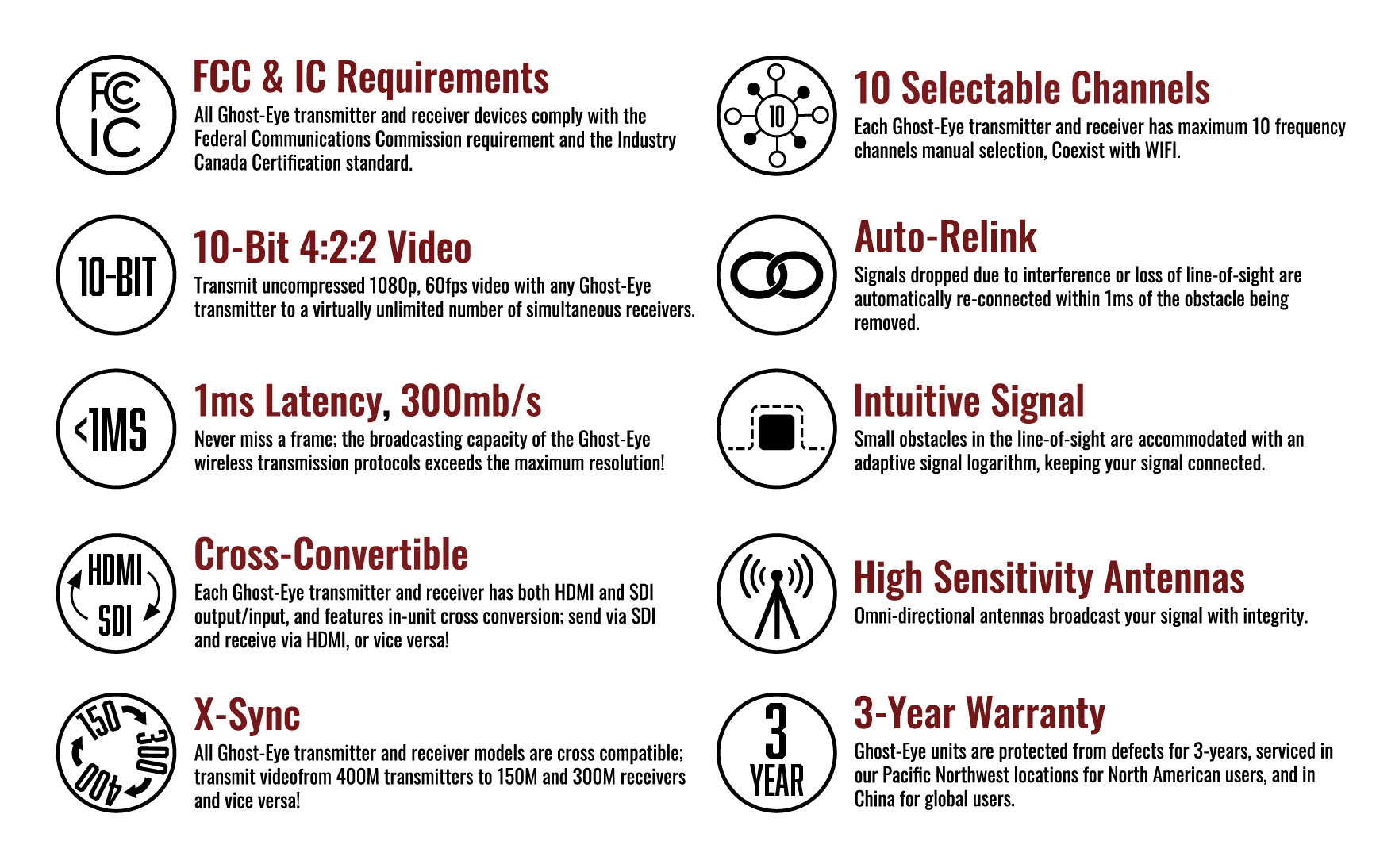 This new Ghost-Eye 200M series gives high performance in a compact size. Our new design offers a    Complete Wireless Solution for transmitting and receiving 1080p, 60fps videos. 
In The Box
The kit includes the following:

200M Transmitter
200M Receiver

2 x CINEGEARS Two-Pin LEMO to D-Tap Power Cable for 400M Ghost-Eye System (2′)

7 x CINEGEARS Extended High-Range Antenna for 5G Large and Outdoor Projects

CINEGEARS Hot Shoe Stand for Ghost-Eye Wireless Video Transmission System

CINEGEARS Universal V-Mount Bracket
Waterproof Hard Case

A perfect kit for beginner-level film makers, since both the transmitters and receivers, and the accessories to enhance the device are included in one case!  The specialized, easy to carry case is durable, waterproof, and shockproof, keeping all the pieces safe from traveling or bad weather when filming outdoors.

Check out the video in the bottom for more descriptive information about what is contained in the kit.
Questions?
If you have difficulties using the device, have some questions based on improving the device's performance, or anything about the product, we are here to help; we can troubleshoot over the phone or by email, and with the product designer in-house we always have the answer!
Additional information
What is included

1 x 150M Video Transmitter
1 x 150M Video Receiver
2 x Paddle Antenna
2 x 2-Pin Lemo Power Cable for 150M System
2 x Cinegears 15mm-27mm Mounting Bracket
1 x Waterproof Foamed Case for Ghost Eye 150M