CINEGEARS Multi Axis Long Range Wireless Follow Focus Kit
Multi-axis controller and 3 professional motors; control focus, iris, and zoom with one controller using a large focus wheel with built in hardstops, and two backlit slider-controls
Wireless signal interference will not occur with this kit, with 133 MHz wireless transmission protocol
Easily switch between speed-priority (fastest) and smoothness-priority (eliminates stepping)
Save time by going wireless on set while having more control over your shot with built in REC support for all professional cameras, programmable focus stops, and two built-in hardstops
Professional support in North America with a 1-year warranty from an established North American company
Overview
Used by thousands of camera operators globally, the Cinegears Wireless Follow Focus system is tried and true. Based in Vancouver, British Columbia, the Cinegears team reaps the benefits of feedback from the many local film professionals who use the gear; if you're using our gear on set, we want to know if we can make the experience better!
Speaking of feedback, our brand new Focus 2.0 system offers a wealth of industry-leading upgrades in response to on-set experiences worldwide! Our patented lightweight, ergonomic controllers provide the biggest range of function in the industry. Our motors offer one of a kind flexibility; slam in a fast and far focus pull, then switch seamlessly into smoothness priority mode for that gentle pull out. Our Focus 2.0 motors, with a lighter 38mm steel gear, now require less power while providing the same lens-driving capability. The performance LED now remains off by default, except for during pairing and for troubleshooting purposes. We have also upgraded the power surge protection and lens-protecting safety features, extending the life of your motor.
The Cinegears Multi Axis Lens Control System
The complete wireless lens control solution for your camera rig. This system includes a Cinegears Multi Axis Wireless Hand Controller, a Cinegears Wireless Receiver, 3x Cinegears Wireless Lens Motors, REC (start/stop) triggers for Arri, Sony, Lanc, Black Magic, Canon, and Red Epic cameras, and all the accessories you will need to use your kit right away. This kit comes in our waterproof hard case with foam inserts.
The Cinegears Multi Axis Wireless Hand Controller
Control your lens focus, iris, and zoom with precision from up to 100 meters away. Our controllers work with jib, Steadicam, MoVI, and Gamble stabilizer shots, allowing you to perform with precision without sacrificing the mobility of your cameras or the integrity of the shot. Four focus presets can be programmed and accessed with the press of a single button, and recording can be controlled with the integrated record button. Shoot continuously for up to 20 hours on a single charge with a quick-charge lithium battery.
The Cinegears Multi Axis Wireless Receiver
Drive up to 6 Cinegears Lens Control Motors, as well as providing REC (start/stop) control, Stereoscopic 3d filming support, and an option for wired control. The receiver mounts to your rig on a rail by quick clamp, and is powered using the 2-PIN1B to 2-PIN0B cable. Keep an eye on your parameters easily with a backlit LED screen. The receiver also has the option of being connected to the hand controller via a 4-pin lemo cable (included).
Any focus kit is only as good as its motors, which is why the Cinegears multi axis lens motors are held to strict performance benchmarks for noise, torque, and design. With a hidden antenna and reduced overall size compared to our single axis motors, the Cinegears multi axis lens motor does not compromise performance; motor power and transmission distances are the same. The motors laterally lock on to 19mm and 15mm rail systems, avoiding the need to remove your matte box and other rail accessories. With a built in receiver, remote record, and interchangeable gear heads (m 0.4 to m 1.0), the Cinegears Wireless Standard Motor is ideal for practically any lens setup imaginable.
The Cinegears Multi Axis Wireless Follow focus Kit delivers a complete solution to focus on your set!
The latest Multi Axis Kit had been upgraded with:
– All trigger functions built in, including SONY, CANON, ARRI and red epic
– An extended controller slider, and also uni-body design
– The power protection mode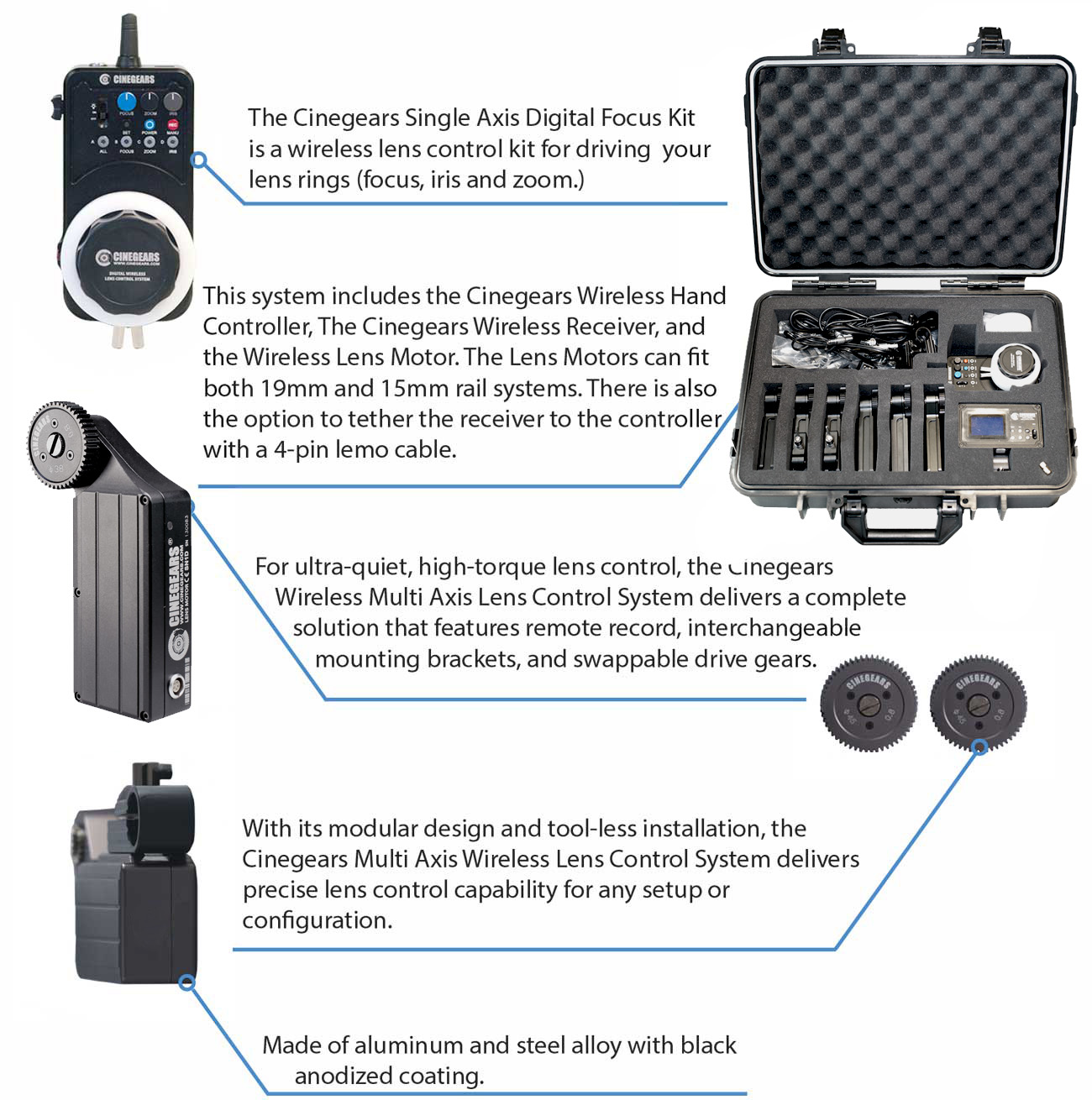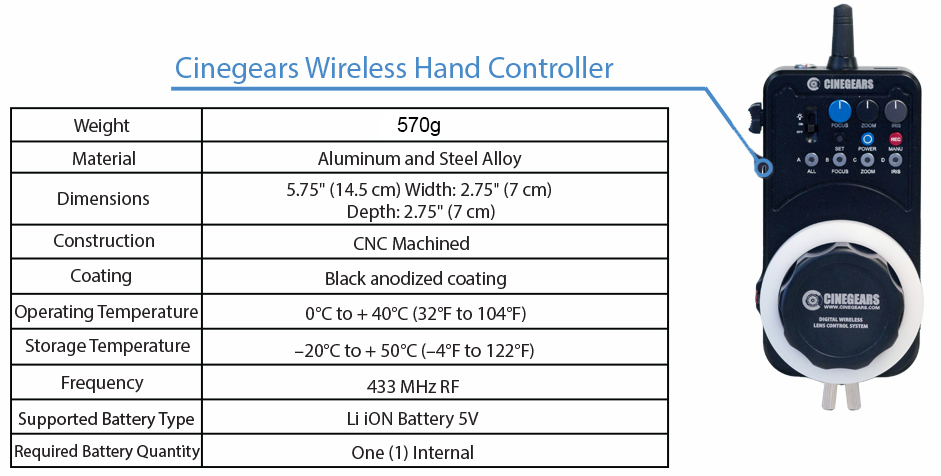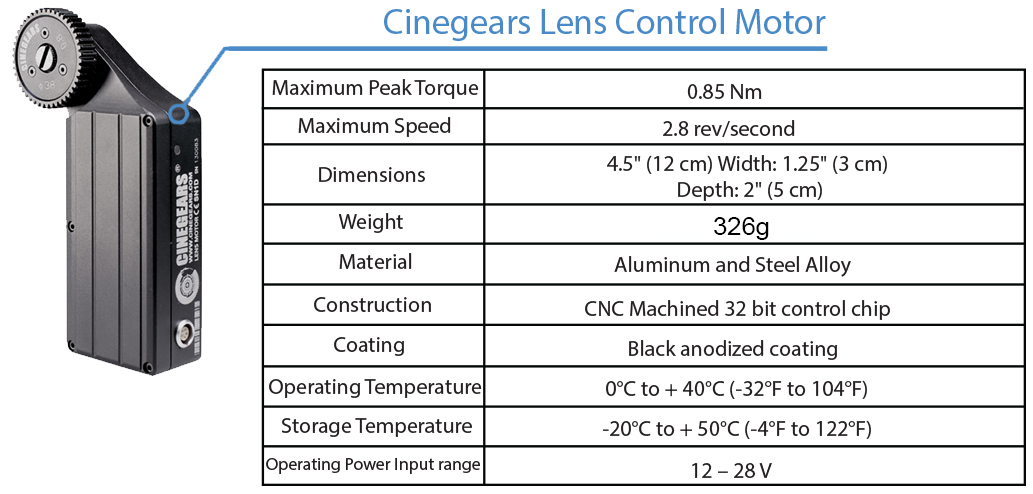 What is Included:
3 x CINEGEARS Multi Wireless Lens Control Motor
1 x CINEGEARS Multi Axis Wireless Controller
1 x CINEGEARS Wired/Wireless Receiver
3 x Motor Mounting Bracket 19mm Rail
3 x 15mm-19mm Rod Bushings
3 x Gear Re-locator
2 x Thick Marking Disc Replacement
1 x Extra Gear with 0.5 Pitch and Teeth
1 x Extra Gear with 0.6 Pitch and Teeth
1 x Extra Gear with 0.8 Pitch and Teeth
1 x Extra Gear with 1.0 Pitch and Teeth
3 x Steel Gears with Each one of the Motor
3 x 8cm Extended Bracket for 15mm Rod
1 x Detachable Antenna
3 x 5 Pin Lemo Motor Cable
1 x Black Straight Power Tap Converter Cable
1 x MULTI AXIS REC CABLE FOR RED EPIC
1 x MULTI AXIS RECEIVER REMOTE LANC REC TRIGGER SONY
1 x Water Proof Production Case with Foam Inserts
Additional information
| | |
| --- | --- |
| Battery | Lithium polymer batteries, over 20 hours |
| Channel: | Three-channels |
| Compatibility | ARRI, RED, Sony, Canon, Nikon, Panasonic, etc. |
| Delay: | Less than 10 milliseconds |
| Effective Control Distance | > 60m(radius) |
| Frequency: | 433MHz |
| Input Voltage | '+12 V to 30V' |